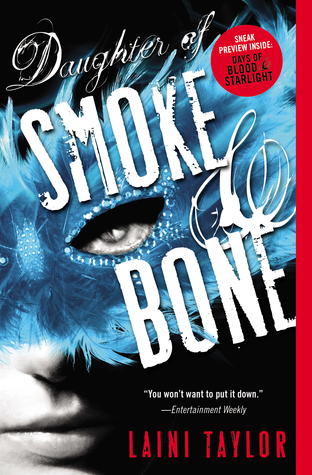 TITLE: Daughter of Smoke and Bone (Daughter of Smoke and Bone, #1)
AUTHOR: Laini Taylor
GENRE: YA Fantasy
SYNOPSIS (from Goodreads): Around the world, black handprints are appearing on doorways, scorched there by winged strangers who have crept through a slit in the sky.
In a dark and dusty shop, a devil's supply of human teeth grown dangerously low.
And in the tangled lanes of Prague, a young art student is about to be caught up in a brutal otherwordly war.
Meet Karou. She fills her sketchbooks with monsters that may or may not be real; she's prone to disappearing on mysterious "errands"; she speaks many languages–not all of them human; and her bright blue hair actually grows out of her head that color. Who is she? That is the question that haunts her, and she's about to find out.
When one of the strangers–beautiful, haunted Akiva–fixes his fire-colored eyes on her in an alley in Marrakesh, the result is blood and starlight, secrets unveiled, and a star-crossed love whose roots drink deep of a violent past. But will Karou live to regret learning the truth about herself?
---
REVIEW: 4 stars
'Daughter of Smoke and Bone' was recommended to me by a good friend who also reads a ton of YA and fantasy.  She pre-warned me by saying that this series was great, but the first book was her least favorite…which of course made me pretty skeptical.  BUT, I have to say that I enjoyed it (it took some while to get into though)!  This was definitely a different type of YA than I was used to…full of angels, seraphim, chimaera, etc.  I've gotten tired of the ridiculous amount of vampire YA out there so this was a nice change (I think I say this any time I read anything non-vamp).
When I was first introduced to Karou, I didn't really care for her all that much.  She was kind of whiny and I was completely confused at her double life…Taylor did a terrible job at explaining things in the beginning.  It did all start to make sense, but being left so in the dark made the book hard to get into.  I think knowing who Karou is makes her character and the rest of the story into something more believable and makes the story work.
My biggest problem with this book was the romance between Karou and Akiva – it was just too far fetched at first.  They literally fall in love within 2 days…what?  That is utterly absurd.  I was thinking to myself…oh geez, another ridiculous YA love story.  But then once we figure out who Karou is, the romance gets some substance and makes perfect sense.
Oh and by the way – I think I am in love with Akiva…he sounds dreamy and amazing 🙂
It is obvious that the understanding of this book centers around finding out who Karou is and without it, I would have given this book a 2 or 3.  Although I get why Taylor wrote the book this way, it was harder to get into when everything hinged on that one point.  Either way, I'm definitely intrigued to read the rest of the series especially since I was told that they just get better and better!